Leaf Collectors projects are funded through grant applications. There aren't many hard and fast rules for eligibility, although there is an emphasis on community projects in the Mayes County area.
- Robert Webster, Board Member
NEWS: Current Project at the Pryor Nature Trail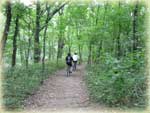 The Leaf Collectors Foundation could be paving the Pryor Nature Trail. You might see smooth trails in 2004!